PE-MVE – the space-saving stationary breathing air compressor which ensures quiet operation at an attractive price!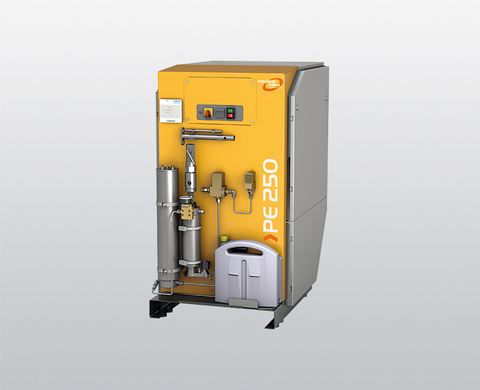 Super-Silent cladding as standard: With low noise level for use in working environments where noise is a key concern
Fully automatic, easy-to-use compressor control: BHW CONTROL
Integrated filling device: 2 non-kinking filling hoses in the standard scope of supply
Compact dimensions: for installation wherever space is at a premium
The PE-MVE from BAUER is the compact complete solution in a vertical format for all applications requiring medium delivery rates. Equipped with noise insulation housing as standard, the PE-MVE is ideal for use in environments where noise is a key concern and for customers who need reliable and durable service combined with low running costs.
What's more, the high-pressure compressors are already equipped with an automatic condensate drain and easy-to-use BHW CONTROL, which has a fully automatic mode for filling storage bottles.
All the information you need at your fingertips!
B-TIMER filter cartridge monitoring
The operating hours and the current level of cartridge saturation are displayed on the unique B-TIMER mini-computer. Read more
SECURUS is a direct asset to your safety!
SECURUS is an electronic filter cartridge saturation control which continuously monitors the ability of the final filter cartridge to dry breathing air in accordance with the standard EN 12021:2014. Read more
Switch-over device
The optional equipment with a switch-over device makes switching from 200 to 300 bar and vice versa easy and flexible. Read more
P 41 Purification system
When used in conjunction with original BAUER filter cartridges, the P 41 filter system with additional oil and water separator and pressure retention check valve can be relied upon for breathing air treatment conforming to DIN EN 12021:2014¹. A type-tested and sealed final pressure safety valve enables particularly high levels of operational safety to be achieved. 1550 m³ of air can be treated.
¹ If the units are maintained and installed correctly as described in the user manual and subject to the BAUER AERO-GUARD being used if CO2 concentration in the intake air exceeds prescribed standard values.

Fully automatic compressor control
The compressor control is also available in a fully automatic version. As well as switching off automatically when the final pressure is reached, the compressor also restarts by itself as soon as the pressure falls below a specified minimum value. Ideal for use in storage mode.
Integrated gas measurement system B-DETECTION PLUS i
As an option, the B-DETECTION PLUS i gas measurement system can be integrated into the compressor. This permits the monitoring of all gases required by DIN EN 12021:2014. Thanks to the option for discharge to the outside in the event of short-term contamination and the shut-down of the compressor in the event of extended overruns of the limit values, observance of DIN EN 12021:2014 can be ensured at all times1.
1 Measurement of humidity and total oil value (VOC) as option. Total oil measurement based only on volatile organic compounds (VOCs). Sensor calibration based on isobutene.
Intermediate pressure gauge kit
The intermediate pressure gauges show the operating pressure of the individual compressor stages. This information about the pressure is used to check the corresponding stage valves (inlet and outlet) for leaks so that potential faults can be detected quickly. The intermediate pressure gauges are installed inside the compressor housing.
AERO-GUARD
Using the AERO-GUARD reduces the CO2 content of the breathing air to approximately one-third of the intake value. The constantly increasing levels of CO2 concentration in the air resulting from unfavourable environmental influences are making it more and more difficult for the operators of filling stations to be sure of achieving compliance with legally binding maximum limits for CO2. With AERO-GUARD the operator is always on the safe side! Read more
BAUER high-pressure storage
BAUER high-pressure storage system for optimum operation of the compressor unit. Recommended for high collection rates and the immediate availability of breathing air. Read more
Scope of delivery, basic version
Complete compressor unit ready for operation. Read more
PE-MVE breathing air compressor, 225 – 420 bar, 200 – 300 l/min
Type
designation
Charging rate ¹
Max. operating
pressure
Filter
system
Number of
compressor stages
Speed
approx.
Motor and power
Net
weight
Dimensions
L × W × H
l/min
cfm
bar
psig
rpm
Motor
kW
approx. kg
cm
PE 250-MVE
250
9
350
4780
P 31
3
1450
Three-phase motor
400 V, 50 Hz ²
5.5
250
104 × 75.5 × 132
PE 300-MVE
300
10
350
4780
P 31
3
1800
Three-phase motor
400 V, 50 Hz ²
7.5
260
104 × 75.5 ×132
PE 200/420-MVE
200
7
420
6000
P 41/420
3
1270
Three-phase motor
400 V, 50 Hz ²
5.5
270
104 × 75.5 ×132
PE 250/420-MVE
250
9
420
6000
P 41/420
3
1470
Three-phase motor
400 V, 50 Hz ²
5.5
270
104 × 75.5 ×132
¹ Measured with cylinder filling (10 l) from 0 to 200 bar, ± 5%
² Connecting plug configuration: 16 A